Zesty Peanut-Free Pad Thai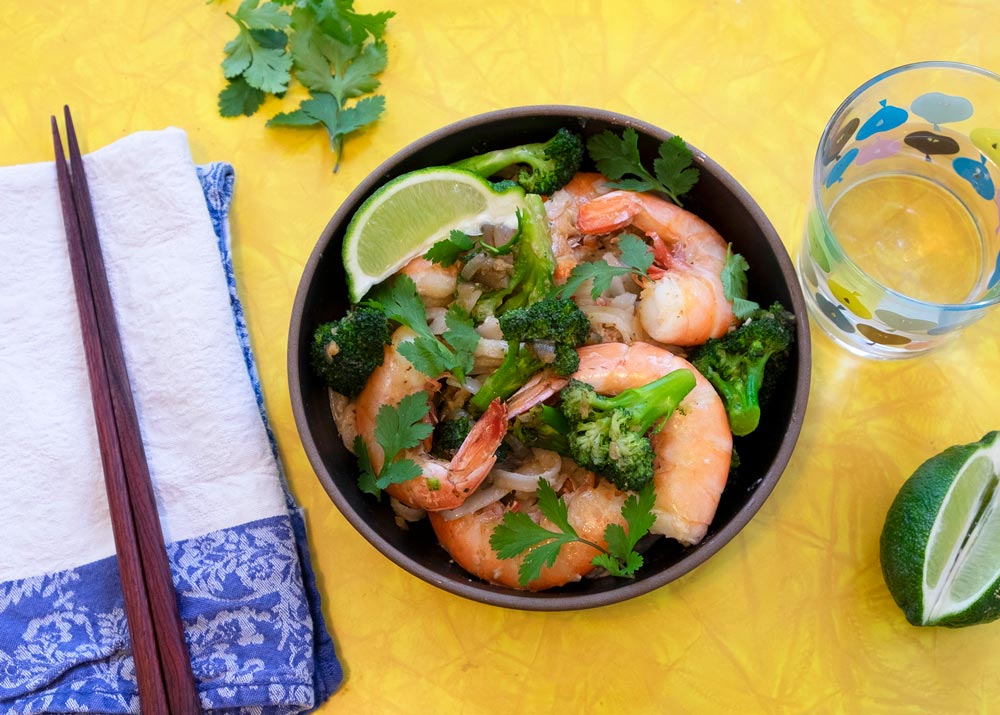 Pad Thai is one of the first dishes I recall eating when I went to my neighborhood Cambodian Restaurant as a young college student. One bite and I was hooked! I'm excited to share this peanut-free version that captures that combination of salty and sweet in a sauce that my family never gets tired of. One of the secrets to this zesty sauce is the addition of grated lemon peel.


INGREDIENTS 

Sauce
2 tablespoons green onions, thinly sliced
1 small clove garlic, minced
1-2 tablespoons fresh ginger, minced
2 tablespoons cooking oil
¼ teaspoon chili powder
½ teaspoon fish sauce
1 teaspoon brown sugar
1 teaspoon lemon peel, grated
½ lemon juiced (1 tablespoon)
2 tablespoons tamari or soy sauce
¼ cup Roasted with Sea Salt Much Better Butter™
1 cup veggie broth
Pad Thai
4 tablespoons cooking oil
2 small cloves garlic, minced
4 shallots, thinly sliced
8-10 medium sized prawns, cleaned and deveined (or 8 oz diced chicken or tofu)
2 eggs, lightly beaten
1 - 14 oz package rice stick noodles (I prefer size L)
1 cup broccoli florets, chopped

Garnish
2 tablespoons fresh cilantro, chopped
3 tablespoons green onions, thinly sliced
1 lime, cut into wedges
Sriracha Hot Chili Sauce for extra heat
HOW TO MAKE  
First, make your noodles: Cut rice noodles in half where they bend to prevent them from sticking together in the pot. Bring 4-5 quarts of water to a rolling boil. Add noodles and be certain to stir immediately when they initially go into the water so they don't stick together. Stir occasionally while cooking until tender, for 4-5 minutes. Drain noodles under cold running water and set aside.
Next, make your pad thai sauce: In a small saucepan, cook green onion, garlic and ginger in hot oil until tender, not brown. Stir in remaining sauce ingredients and simmer uncovered for 10 minutes.
Now put it all together: Heat 2 tablespoons cooking oil in a wok or large heavy bottom pan over high heat. Cook garlic and ginger for about 30 seconds to flavor the oil, and then add prawns, chicken or tofu. Cook until nearly done and add broccoli florets. Cook until broccoli is tender and set aside. Add remaining oil and scramble eggs until just soft. Reduce heat to low, adding sauce and cooked noodles. Toss until sauce is well integrated. Add prawns and broccoli to pan for a quick toss and serve immediately. Garnish with toppings as desired. 
Be well, stay healthy. ~ Tina