Much Better Krispie Treats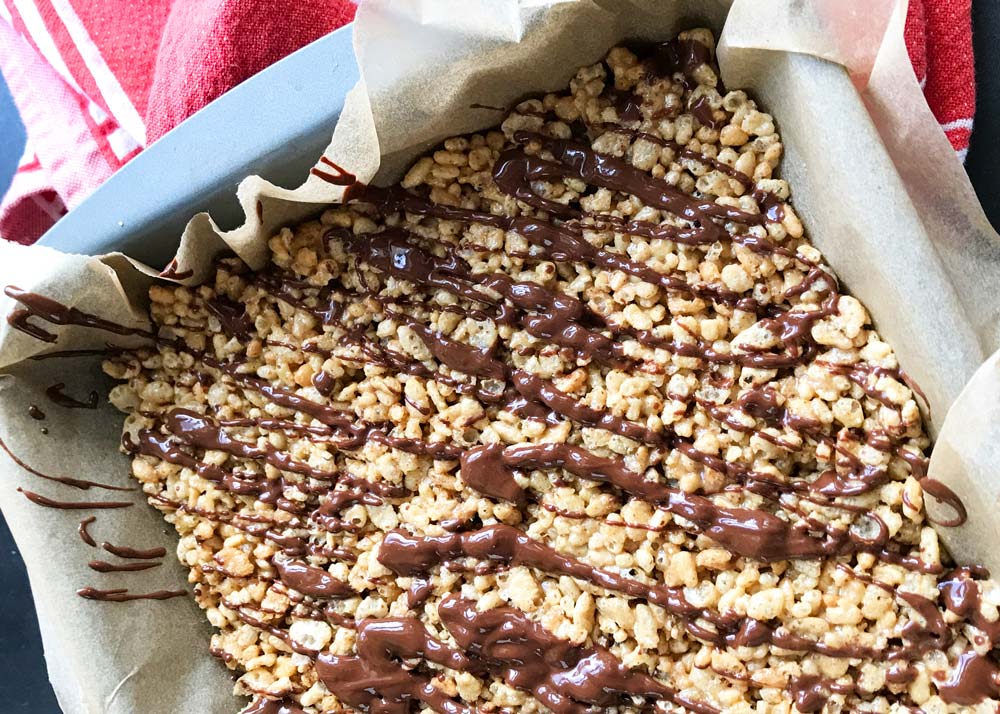 I have a confession to make: I have never liked Rice Krispies Treats™. The first time I was offered one as a child, I quietly deposited it in the trash after the smallest bite. You see, back then marshmallows were made using gelatin, and gelatin is made from animal parts (usually from cows or pigs), which permanently took the pleasure out of marshmallow-eating for me.

When my kids discovered the gooey concoction of Rice Krispies Treats™ and expressed their unbridled joy when eating this marshmallow madness, I invented this healthier alternative—no marshmallows or baking required!
Makes 9 large krispie treats 
INGREDIENTS
For the Treats:
¼ cup
Roasted with Sea Salt Much Better Butter™
1 tablespoon coconut oil*
¼ cup agave nectar
1 teaspoon vanilla
3 cups rice krispie cereal

For the Drizzle:
¼ cup chocolate chips
1 - 2 teaspoons coconut oil*
HOW TO MAKE
Measure oil, agave nectar and Much Better Butter™ into a microwaveable container and heat slightly until the ingredients have softened. Add vanilla and fold in the rice krispies until evenly combined and the cereal sticks together well. Add a teeny bit more melted coconut oil if the mixture feels too dry.
Line an 8" x 8" baking pan with parchment paper or slightly greased aluminum foil, with enough excess up the sides of the pan for easy removal. Using a spatula, firmly press the mixture into the pan so it creates a dense mass with no loose rice krispies.
Melt your chocolate chips and coconut oil in a small microwave safe bowl in 30 second intervals until ingredients are fully melted and mix together well. Drizzle in playful patterns on top of your mixture and refrigerate for 45 minutes or more, until firm. Cut into squares and serve. Store uneaten squares in the refrigerator or freezer until they disappear. Enjoy!

*Travel Note: When my kids were younger, they wanted these yummy treats as a school snack, and I happily packed them in reusable plastic containers. The treats do tend to fall apart when bumped around in a backpack, making them a bit harder to eat, but they still taste wonderful!
*Oil Substitutions: Avocado, almond or sunflower oil may also be used. 

Be well, stay healthy. ~ Tina