Chocolate Chip Muffins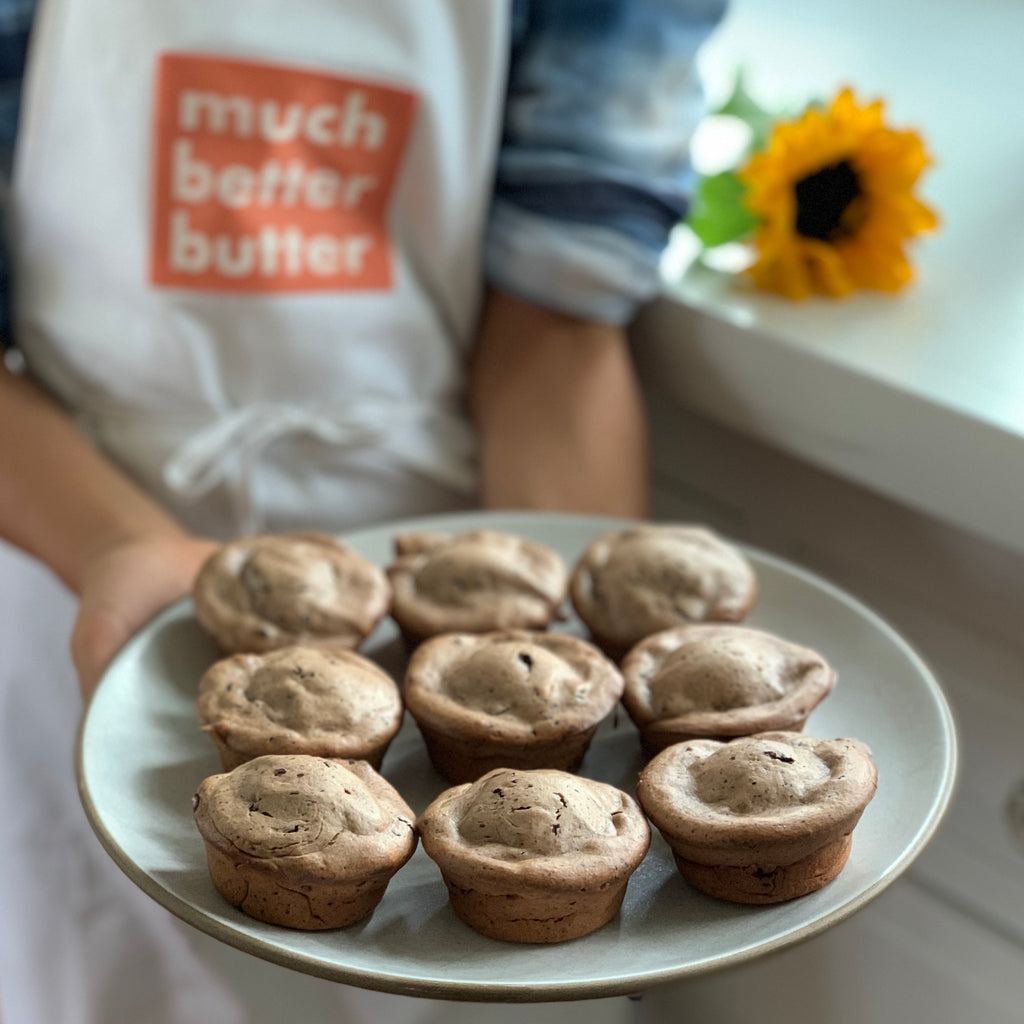 Ever since my kids were small, I've been baking a wide range of treats from savory to sweet. These are hands down their favorite homemade muffin, requested so often they were quickly nicknamed "Mamma Muffins." 

It's a sizable recipe that can be made efficiently in a food processor, like a Cuisinart, or by hand, using a spatula and two bowls: one bowl for wet ingredients, the second for dry. 


*Please see below for substitutions & notes


Makes approximately 12 super-sized muffins
INGREDIENTS
3 ripe bananas
¼ - ⅓ cup
Much Better Butter™
(your favorite flavor)
1 - 1⅛ cup coconut oil
1 cup oat milk
1 teaspoon apple cider vinegar
1
teaspoon
 vanilla
¾ cup dark chocolate chips
3 cups whole wheat pastry flour
¾ cup coconut sugar
¼ cup brown sugar
2
teaspoon
ground cinnamon
2
teaspoon
baking powder
1
teaspoon
 baking soda
¼
teaspoon
ground nutmeg
1
teaspoon
salt
HOW TO MAKE

Toss chocolate chips into a food processor, pulsing until there are ample chocolate bits and chocolate powder. Slice bananas directly into a bowl and add Much Better Butter™. Pour in melted coconut oil, milk, apple cider vinegar and vanilla. Pulse until well-blended.

Add dry ingredients and pulse until all ingredients are well blended. If the mixture looks too dry, add more milk.
Grease 12 muffin cups or line with paper liners and fill muffin cups with batter. (See below for filling tips.) Bake for 30 - 35 minutes until a toothpick inserted into the middle of one or two muffins comes out clean. 
Let muffins cool a few minutes before removing from the pan. And allow to cool completely before transferring to an airtight container, where they can stay fresh for up to a week (but if your family is like mine, they won't last that long!) Muffins also freeze and refrigerate well and still taste fresh and delicious— just bring to room temperature or warm up slightly in a toaster oven. 
Be well, stay healthy. ~ Tina
NOTES & SUBSTITUTIONS

Filling Tips: For a tray of super-sized muffins, use all the batter in your 12 muffin cup tray, filling each cup to the brim. For a higher yield, you can also fill the muffin cups ⅔ full, giving you enough batter to make an additional four to five muffins. (If opting for the latter, you can use a second muffin tin and fill the empty cups with a couple of tablespoons of water. You can also fill a few 5 oz ceramic ramekins with the excess batter.)
Milk: I am in love with oat milk! It is a great non-dairy alternative and adds a lovely sweetness to baked goods. Feel free to use your milk of choice, such as almond, soy or hemp.
Flour: King Arthur makes a White Whole Wheat Flour if you can find it. Many health food stores carry whole wheat pastry flour in the bulk section.
Sugar: Substitute ½ cup granulated sugar plus

¼ cup brown sugar for coconut sugar.
Share your photos on Instagram!
Tag MuchBetterButter™ and use #MuchBetterButter