Good Morning Breakfast Cookies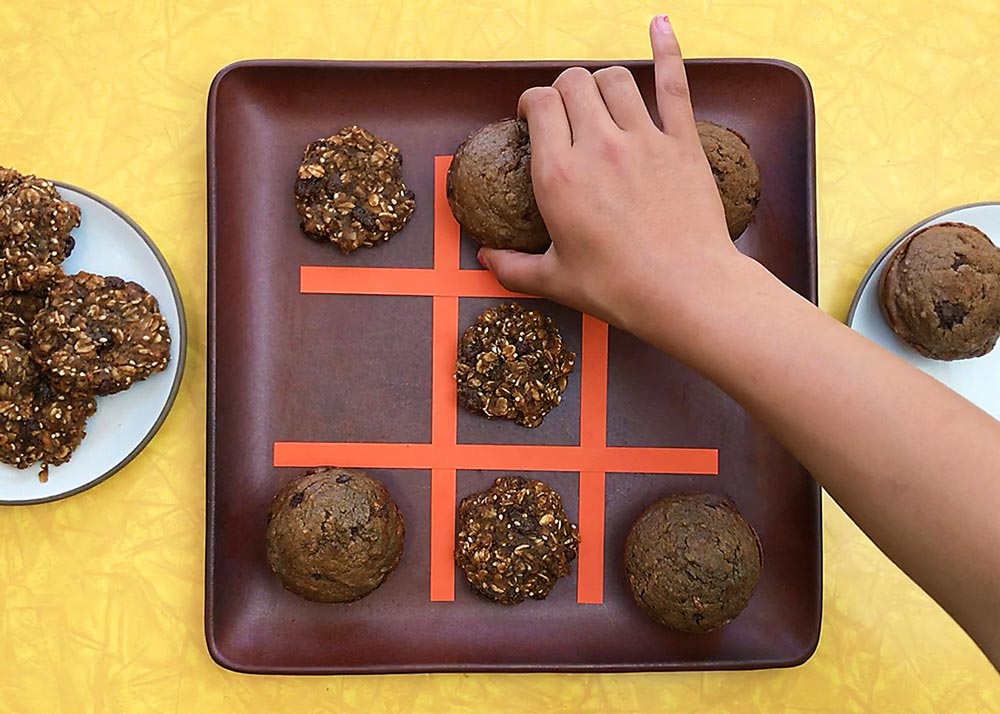 I like to grab these high-protein cookies in the morning before I practice tai chi, or throw a few in my backpack for a long hike. But they're a wonderful snack any time — not too sweet, grain-free and provides a quick energy boost that satisfies. My whole family loves them, but as you can see from the photo above, it's not always easy to choose between our Breakfast Cookies or our Chocolate Chip Muffins – both are winners!

Makes approximately 18 cookies.
INGREDIENTS
Wet
1 yam, steamed 
1 banana
¼ cup maple syrup
1 teaspoon pure vanilla extract

Dry
1¼  cup almond flour
1 cup oats, roasted
⅔ cup Roasted with Sea Salt Much Better Butter™
¼ cup raw pumpkin seeds, coarsely chopped
2 tablespoons sesame seeds or millet
1 teaspoon baking powder
1 teaspoon cinnamon
½ teaspoon salt
½ cup raisins or other dried fruit
¼ cup chocolate chips, (optional)
 
HOW TO MAKE
Preheat oven to 350°F.

Peel and cut a medium sized yam into cubes. Steam until soft and blend with an immersion blender until smooth. Mash banana, add maple syrup and vanilla, and set aside. (Additional banana can be used if you prefer that to yam.)

Spread oats, sesame seeds or millet, and pumpkin seeds onto cookie sheet and roast at 350°F until aromatic, for 10 to 12 minutes. Set aside.

In a medium sized bowl combine all remaining dry ingredients and mix well. Add in roasted dry ingredients and wet ingredients, mixing until well combined. Add in raisins and/or chocolate chips if desired.
Measure out dough with a spoon, roll into balls and flatten onto an ungreased baking sheet. Bake for 18 minutes or until a toothpick inserted in the cookie comes out clean.
Cool on a wire rack and store in an airtight container. I like to freeze cookies and pop into the microwave for 20 seconds with a cup in the tea in the morning. And frozen cookies temper nicely on the trail and taste fresh when you're ready to refuel. Enjoy!

Be well, stay healthy. ~ Tina