Coconut Chocolate Tartlets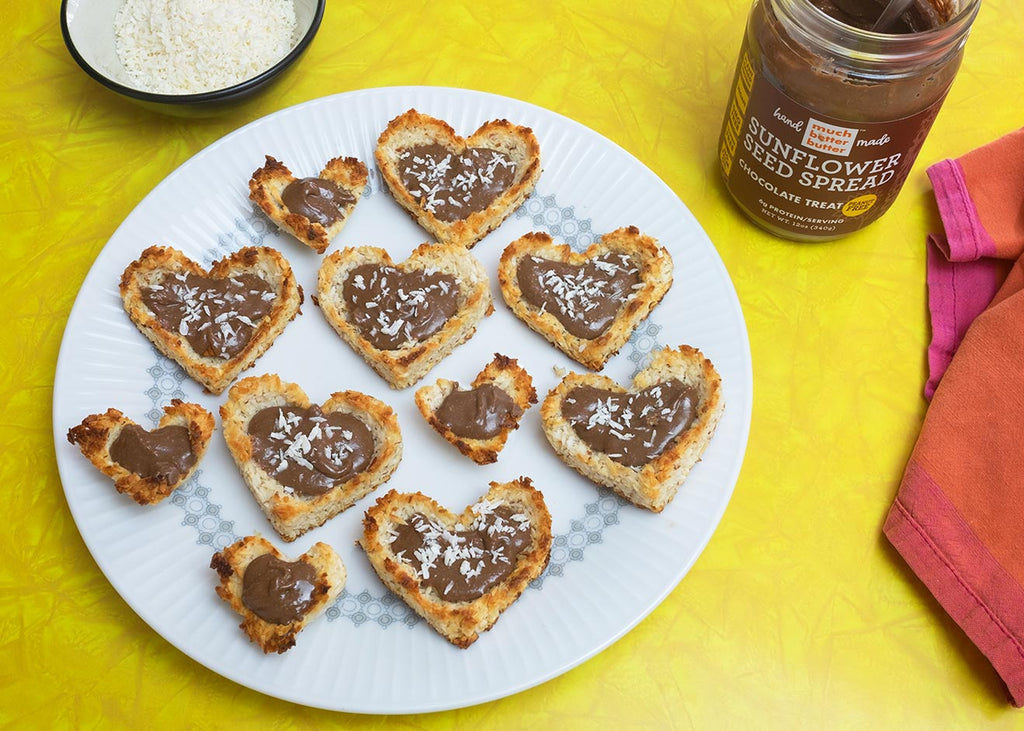 A special treat for any occasion, these scrumptious tartlets might look like you've slaved away in the kitchen. But they're a snap to make —even in the toaster oven! 


The shredded coconut and almond meal form a lovely crust reminiscent of macaroons, while the Chocolate Treat Sunflower Butter filling adds a delicious, chocolatey protein boost.


Makes approximately 20 small or 14 large tartlets.

INGREDIENTS
2 egg whites (room temperature works best)
1¼
cups unsweetened shredded coconut
3 tablespoons finely ground almond flour / meal (optional)
2 tablespoons honey, agave nectar or maple syrup
1 teaspoon vanilla extract
¼
teaspoon sea salt
½ cup Chocolate Treat Much Better Butter™
HOW TO MAKE
Preheat the oven to 350° F.
Use a silicone mold pan in your favorite shape. (You can also use a muffin tin with 20 individual cups, or cookie cutter.)

Whisk egg whites in a medium-to-large bowl until opaque and frothy. Using a spatula, add vanilla, sweetener and sea salt—mix well. Fold in coconut and almond meal until all the ingredients are well integrated.
Measure 1-2 teaspoons of dough into each mold cup, pressing firmly with a melon baller or the back of a teaspoon.
If using a cookie cutter, line a pan with parchment paper. Place cookie cutter on pan, measure 1-2 tablespoons into form, press firmly into the bottom and around the insides of the form. Bake 12-15 minutes until just golden brown around the edges. Cool on a wire rack.
Place Much Better Butter™  into a microwaveable container and heat until just soft, approximately 20-30 seconds. Transfer warm spread into a ziploc plastic bag and cut a small hole in one of the corners, approximately ⅛" wide. Squeeze a tad more than one teaspoon of spread into each cookie until you've depleted the bag. Feel free to finish the tops with additional shredded coconut or a gourmet salt. I recommend serving these tartlets chilled.
I asked my family if they preferred the small or larger tartlet and we all agree—both are equally delicious!
*Note about almond flour: I add almond flour primarily for flavor. I find that 100% unsweetened coconut can be overpowering with its natural sweetness, and the slightly bitter flavor of almond flour can temper this sweetness
.
Be well, stay healthy. ~ Tina