Rich Chocolate Banana Bread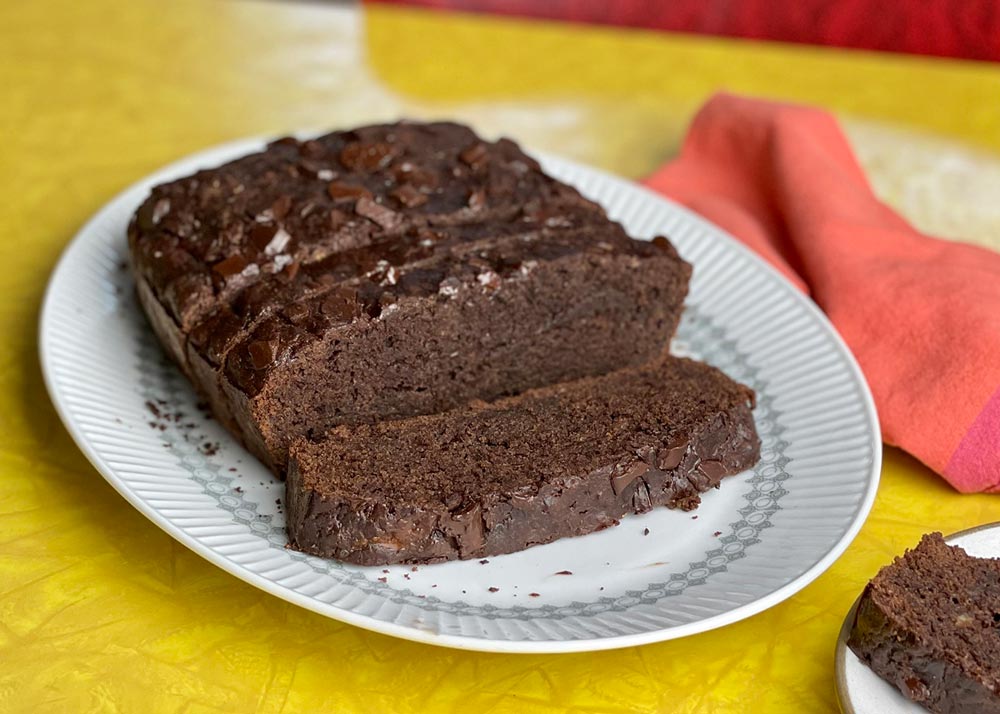 For an easy dessert that's nothing short of heaven for chocolate lovers, spread slices with a heaping spoonful of Chocolate Treat Much Better Butter.
INGREDIENTS
Dry
½ teaspoon salt
1 teaspoon baking soda
¾ cup brown sugar, free of clumps
½ cup unsweetened cocoa powder
2 cups all-purpose flour, or fortified flour* (recipe below)
Optional add-ins: ½ cup chopped walnuts and/or chocolate chips
Wet
⅓ cup Roasted with Sea Salt Much Better Butter™
3 ripe bananas
1 teaspoon apple cider vinegar
1 teaspoon vanilla extract
¾ cup coconut oil, just melted
¼ maple syrup
⅓ cup yogurt
1 egg, well-beaten (or Vegan Egg substitute, recipe below**)

HOW TO MAKE
Preheat oven to 350°F.
Use a large silicone loaf pan (at least 9 ¾ x 5 ¾ x 2 ¾) —or line your large loaf pan with parchment paper.
In a large mixing  bowl, purée the bananas until smooth with a fork, immersion blender, or food processor.
Stir in the apple cider vinegar, maple syrup, yogurt, coconut oil, sugar, and Much Better Butter until well combined. Next, stir in the beaten egg and vanilla extract.
Gradually stir dry ingredients into the banana mixture until just combined. Gently fold in nuts or chocolate chips.
Transfer to loaf pan and bake about one hour, or until a toothpick comes out clean.
Cool for 10 minutes in the pan, then turn out onto a cooling rack and cool completely.
*Baking note: Adding sunflower seed butter to some baked goods can result in a totally delicious but slightly green-colored treat. Baking soda can react with naturally-occurring chlorophyll in sunflower seeds when baked together. It doesn't affect taste, but if you are having a hard time keeping the "green" out of the finished product, try using baking powder instead of soda and/or adding a teaspoon of vinegar (or other acidic ingredients). Adding raisins and/or dates can work well, too.
**How to make fortified flour: I'm always looking for ways to boost the nutritional value of the baked goods I make for my family and friends. One way is to bake with fortified flour. For every cup of flour, start with a 1 cup measuring cup, add 1 teaspoon ground flax meal, ½ teaspoon wheat germ, and ½ teaspoon brewers yeast, and finish off the cup with flour so you end up with 1 level cup of fortified flour.
***Vegan Egg substitute: for each egg in recipe, combine 2 tablespoons flaxseed meal with ⅓ cup warm water. Mix well and add to wet ingredients.
Be well, stay healthy. ~ Tina