Homemade Elderberry Syrup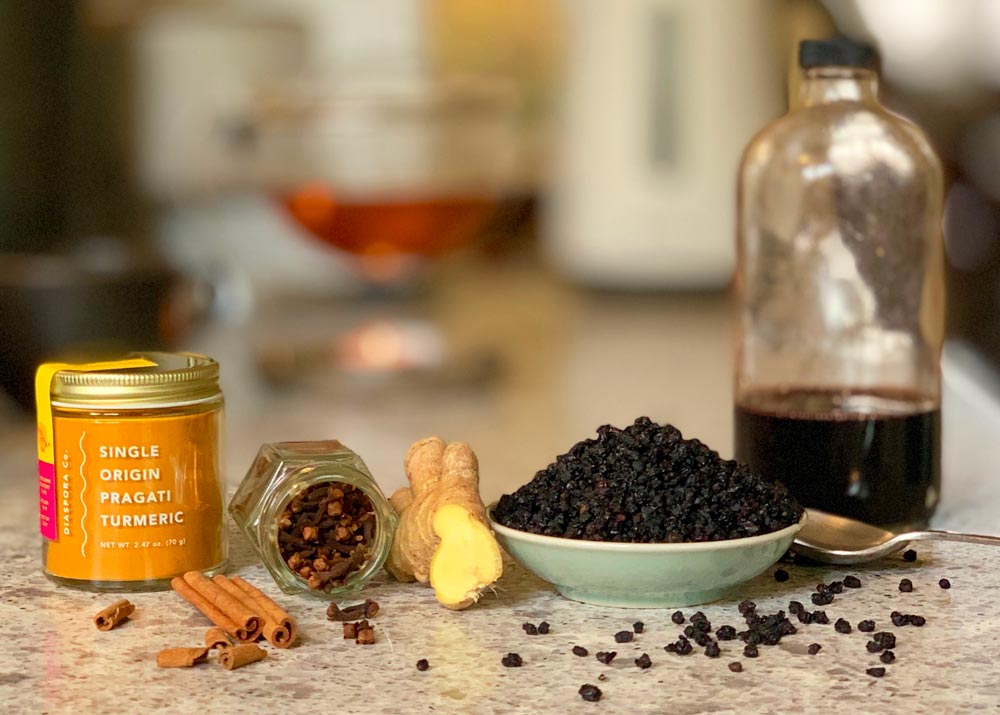 Though this recipe doesn't include any of our spreads, it's one of the most important recipes in our home. I give a healthy spoonful daily to my kids for boosting their immune systems. Elderberries are packed with antioxidants like vitamin C, phenolic acids, quercetin flavonols and anthocyanins compounds. Normally, I would give both kids a dose before heading to the school bus—but instead we are home, diving deeper into 'distance learning' for now... Breath deeply...

Whenever possible I use organic and fair trade ingredients in all my recipes, and this one is no exception. Dried elderberries can be ordered from purveyors of high quality herbs like: Star West Botanicals, Mountain Rose Herbs and OakTown Spice Shop. Diaspora Co. sells a wonderful Single Origin Pragtai Turmeric.
Makes approximately 16 oz of syrup

INGREDIENTS
⅔ cup dried elderberries
3 - 3 ½ cups water 
2 tablespoons fresh or dried ginger root (use fresh if you can)
1 teaspoon cinnamon powder or 1 cinnamon stick
½ teaspoon cloves
¼ teaspoon turmeric
¾ - 1 cup raw honey
HOW TO MAKE
Stovetop
If using the stovetop method, pour 3 ½ cups water into a medium saucepan. Add all ingredients EXCEPT HONEY. (If honey is heated to high temperatures, especially over a long period of time, the quality diminishes and many of its nutrients and enzymes are lost.)
Bring to a boil, cover the pot and reduce to a simmer until the elderberry mixture is reduced by half. This can take between 45 minutes to one hour.
Slow Cooker
If using the slow cooker method, add 3 cups of water and turn the knob to the highest setting. Add all ingredients, and as mentioned earlier, DO NOT ADD HONEY. Cover and let cook until the elderberry mixture is reduced by half. (Cooking time varies depending on your slow cooker, but for my 1.5 qt. Sylvania Slow Cooker, it usually takes 3-4 hours.)
Remove from heat and strain into a large heat-resistant bowl. Press out all liquid from berries with a clean spatula. 
Let cool until lukewarm and add honey. Start with ¾ cup honey and add more until you reach your desired sweetness. The honey tends to sit on the bottom of the bowl, so be sure to mix well. The key is having the mixture warm enough to melt honey and absorb into the liquid. 
When mixture is well-combined, pour into a glass jar. I like to repurpose 16-oz glass kombucha jars for their easy-to-pour spouts. A mason jar also works well.
Standard daily dosage is ½ teaspoon for the kids and a tablespoon for adults, but my kids like it so much they ask for the adult amount. If you or a family member comes down with a major cold or flu, feel free to increase dosage to every 2 or 3 hours until symptoms subside.
Be well, stay healthy. ~ Tina
Share your photos on Instagram!
Tag MuchBetterButter™ and use #MuchBetterButter