Heavenly Chocolate Fudge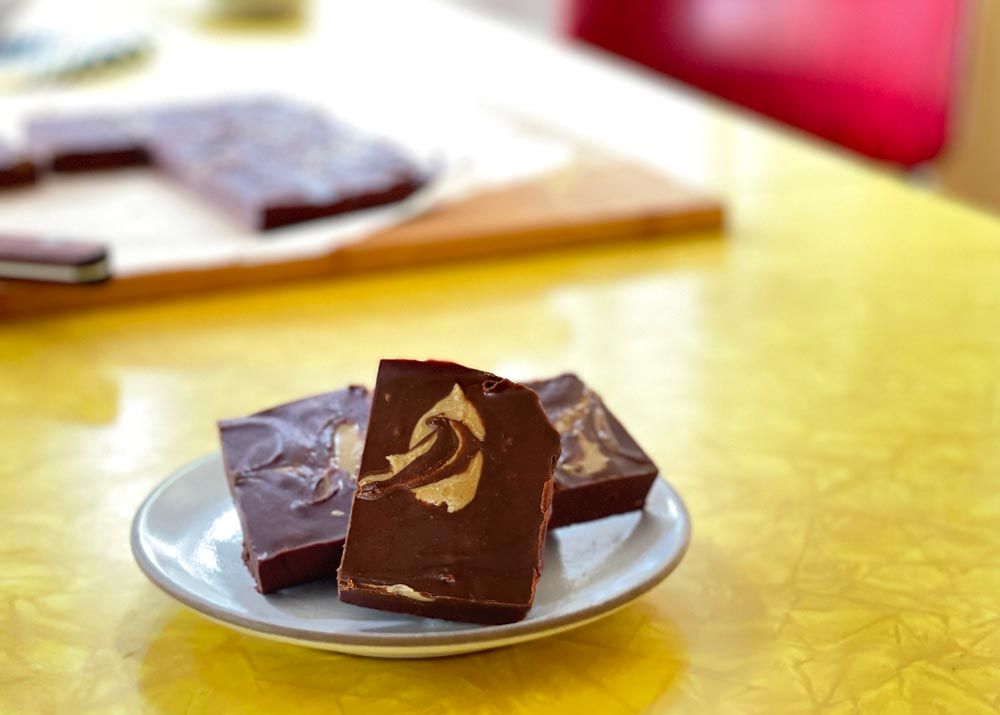 This unbelievable chocolate indulgence is dairy free, naturally sweetened, low sugar and made with only 4 ingredients. Plus - no baking required. See how long these sumptuous treats last in your house!
12 - 16 servings
INGREDIENTS
2 cups dark chocolate chips (These days I am using chocolate wafers.)
1 cup Roasted with Sea Salt Much Better Butter™️
4-6 tablespoons honey (substitute agave syrup to make vegan)
⅛ teaspoon salt
Additional: 9 teaspoons Much Better Butter
Sprinkling of sea salt flakes (optional)


HOW TO MAKE
In a medium sized bowl, melt chocolate in the microwave in 30-second increments. Stir chocolate in between each interval so all of the chips are just about melted. At that point, stop heating and continue to stir until the last remaining pieces have melted. If feeling more ambitious melt over a double boiler. (Instructions below.)

Add Much Better Butter to the melted chocolate and combine well. Add honey until preferred sweetness and the salt, if desired. Stir until combined.

Transfer mixture to an 8×8" baking dish lined with parchment paper. Add 9 or more teaspoon-sized dollops of Roasted with Sea Salt sunflower butter on top and swirl into the mixture with a butter knife. Sprinkle with chunky sea salt flakes for texture.


Refrigerate for 1 ½ hours until firm. Slice into 12 larger pieces or 20 smaller size pieces and store any leftovers in the fridge.


Double Boiler Method:

In a medium saucepan add 1 inch of water and bring to a gentle simmer. Place a glass or Pyrex bowl on top of the pan and make sure it does not touch the water. Watch carefully and once the chocolate is melted, remove from heat.
Enjoy! ~ Tina